Taliaz will present its novel personalized-medicine technology, Predictix Antidepressants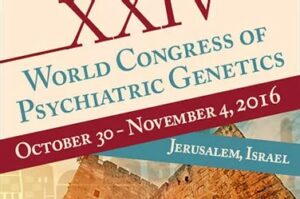 October 2016 //
​
​
​​Dr. Dekel Taliaz, CSO, has been invited to give a talk on "Clinical genetic testing in psychiatry: Prospects and challenges". Join us in Teddy C, symposia session 3, 31 October,10-12 am.
The XXII World Congress of Psychiatric Genetics, sponsored by the International Society of Psychiatric Genetics, will take place in Jerusalem, Israel, from 30 October 2016 to 3 November 2016.
WCPG is the annual conference of the International Society for Psychiatric Genetics (ISPG), the world's leading organization for genetic research in psychiatry. About 700-900 people from all over the world attend the conference alternately in North America and Europe. Jerusalem will be the host city in 2016.
Psychiatric genetics aims to identify the genes that confer susceptibility to mental disorders and to uncover the pathway from the gene to the clinical phenotype.
Taliaz will present some of the challenges facing clinicians to personalize medicine using pharmacogenomic tools. Their talk will specifically cover how their PREDICTIX technology, that integrates genetic and clinical data to tailor the right antidepressant to each patient the first time, can improve prescribing success and help significantly improve psychiatric care.