Taliaz CEO, Dekel Taliaz, delivered key-note presentation at the prestigious International Congress on Precision Medicine Beyond Cancer in Munich
October 2018 //
​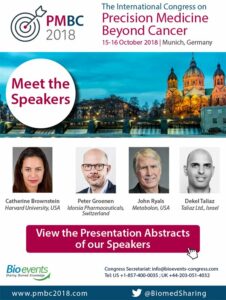 Taliaz was proud to be invited to give a keynote talk covering our technology on: ​"Using AI and Real World Evidence to Take the Trial and Error out of Prescribing". Today, less than 50% of patients get prescribed the right treatment the first time. The presentation discussed how using real-world data and artificial intelligence we can better analyze data and learn with the patient to better optimize prescribing success. This will help remove today's long and painful 6-18 month trial and error process undertaken by many patients seeking mental health treatment.
The International Congress held on Precision Medicine Beyond Cancer aims to cover issues relating to clinical research and development as well as to adopt the use of the latest technology for disease prevention in future. Many new technologies have been introduced with the rapid advancement of technology, including artificial intelligence, the Internet of things, and other computing programs that can be integrated to provide improved methods of disease prevention and treatment of some complex disorders.
The Precision Medicine Beyond Cancer (PMBC) Congress visions to incorporate new technologies of treatment and reduce the large costs of treatment and thus taking a burden off from the society and is aimed at exploring the applications of Precision Medicine for numerous other diseases apart from cancer.