Standing out from the Innovative crowd of Innovative companies
June 2017 //
​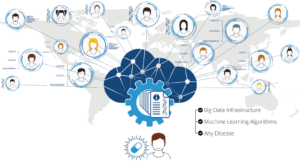 The Israel Innovation Authority, an independent publicly funded agency, was created to provide a variety of practical tools and funding platforms aimed at effectively addressing the dynamic and changing needs of the local and international innovation ecosystems. As a leading body in Israel assisting startups in the healthcare sector in transferring their ideas to the market, the Israel Innovation Authority also supports global corporations interested in collaborating with Israeli technology and Israeli companies seeking new markets abroad.
In The latest edition of Israel's Innovation Authority Magazine, focused on Digital Health, Dr. Dekel Taliaz, CEO and co-founder at Taliaz, outlines his insight regarding the future in personalized medicine and genetic data.
"…The future of health in the digital age is that each patient will have its genetic profile readily available in the cloud such that our technology can instantaneously offer deep personalized medicine insights"…
Harnessing Taliaz's PREDICTIX, a game-changing AI-driven algorithm to help psychiatrists and GPs improve mental health prescribing success, while saving time and reducing costs, Taliaz is proud to be showcased in their magazine.
Driven by artificial intelligence-based algorithms and deep scientific research, PREDICTIX provides unrivalled prescribing performance immediately at the point of care.
PREDICTIX is available for commercial use in the E.U, U.K, Australia and Israel.